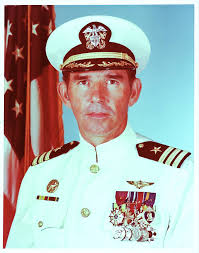 "Who is the most impressive, impactful and important person you have ever interviewed in all the broadcasts and podcasts over twenty plus years?" the young man asked me at dinner a few days ago. I have been asked this question many times over the past two decades plus, about my conversations with movers, shakers, ground-breakers, news makers and risk takers, and while they all brought great things to the table, there is an easy answer to the question.
Capt. Jerry Coffee USN (Ret.)
During the Vietnam War, Jerry was flying a combat mission off the USS Kittyhawk when he was shot down by North Vietnamese anti-aircraft guns in 1966. Immediately captured, he was held prisoner for over 7 years in the infamous 'Hanoi Hilton' communist prison where torture and solitary confinement were routine. He has endured the very worst of human behavior, and has transformed that experience into making the world a far better place, through the power of forgiveness and faith.